tue 29-jul-08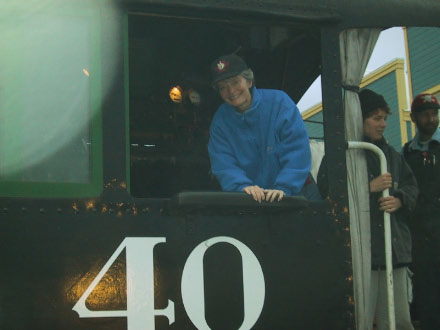 alaska - sept 7, 2001
It was a chilly rainy night in Skagway - and I found myself in Engine #40.
And, you can see that I have made it to Sept 2001 in my Alaska photos. I might get out of the Alaska phase of the photo culling project soon. Boys and Girls, don't let your images pile up like I did.
About moving to Camp Mac ... no action yet. But, the mind is getting used to the idea. Didn't order that iTouch yet. Did order an obsolete Creative MP3 player. It runs on AAA batteries. And handles downloaded audio books from the library. AND, this is the biggie - it doesn't have a clock - so, your downloaded audio book do not vanish after 21 days. I have one - but decided to snag a spare. They are also good for power failures and travel - since they run on one AAA battery.
Note to Libraries: Make friends with the iPod. Microsoft protected audio format is toast.
But, I love downloadable audio books from the library.