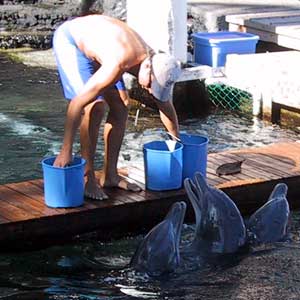 Show Dolphins - Waikoloa Hilton

Went up to the Waikoloa Hilton to walk around and look at the rich people. And the rich folks dolphins. These guys were getting very well fed before they went to work - being the dolphin part of the "Swim with the Dolphins" attraction.
Don't know how much it costs to stay at the Waikoloa Hilton - but it does cost $8.00 (plus tip) to have the valet park your car. Of course, it is a rental car - so, you don't have to tip but so good!