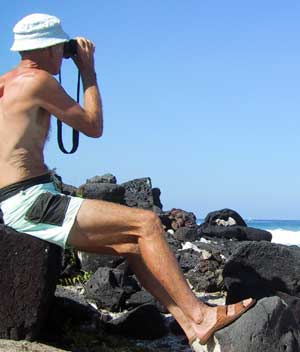 watching the surfers
Kaloko Honokohau - 01.jan.03
New Year's Eve was very quite - for Hawai`i. Carlton wasn't needed for Palace guard duty. None of the neighbors got too rowdy.
There was small firework show at midnight. I went out the door and looked at it - but Carlton didn't. Now I know that he really doesn't care about fireworks. He didn't even walk 10 feet to look at them. But, this is the man who wouldn't go outside to look at meteors either. So, why should he get up and look a faux meteors?
Today, we went to the beach. The old "nude beach" now National Park Service beach. Clothes definately not optional. And from the looks of the beach goers (self included) - that is a good thing.
We watched surfers, spinner dolphins, turtles etc. A fine beach day.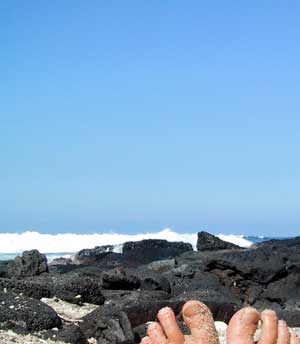 watching waves 01.jan.03