sat 1-dec-07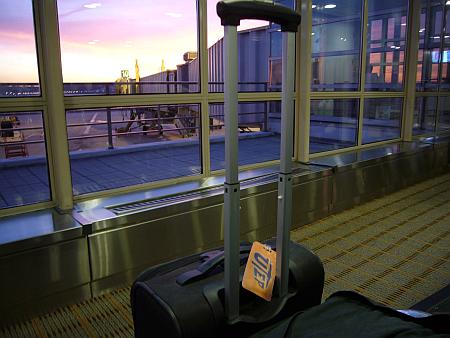 sunrise over national airport
Somehow, it is always nice to be safely thru security - and enjoying the sunrise while waiting to board. Came to Seattle on Alaska. Alaska is still a nice airline. We got Seattle Best Coffee - with real cream. And two little cookies for breakfast. And a plump bag of pretzels later in the flight. Leather seats. We had a vacant middle seat.
When we arrive in Seattle, it was cold be the sun was out. Had a couple of cheese sandwich for lunch and a quick nap. This was the the scene outside when we woke up.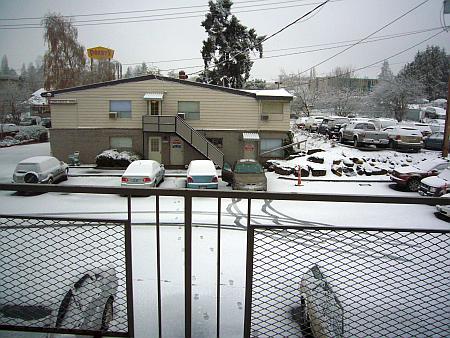 outside our window - the jet motel
What to do but take a longer nap and a nice hot shower. The Jet Motel is very very modest. But, they haven't spent a cent on water saver shower heads. And they have lots of hot water. And ...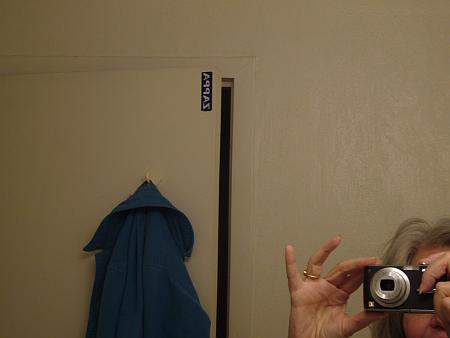 And, some earlier guest had placed a small Zappa sticker on the bathroom door.
Well, when we first arrive - back before winter arrived - I was able to sneak on to an unguarded WiFi connection. If I make it on again - I'll pop this online.
Hope the airport has a nice collection of snowplows. I'll be ready to leave The Jet Motel by 0445 tomorrow morning.