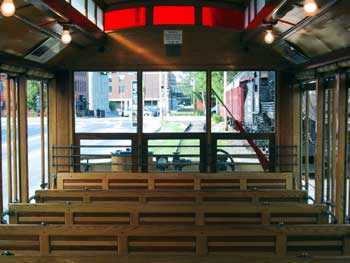 Trolley - 29.jun.02
Yesterday, I was too computer weary to do anything to the Blog. I spent all day Sat and Sun getting the Park's web page into some approximation of Section 508 compliance. Which is to say "accessible" - think web wheelchair ramps. It's the law. It's the right thing to do. It's tedious as hell. It's done.
I still like Lowell. It's an edgy, dirty, modest town - with much to be modest about. But, I like it.
Carlton put on his 1850's costume and spent the afternoon in the "Boardinghouse Exhibit". Today he put on his shorts and was a deck hand on a "canal cruise".